Regular price
$28.80 USD
Sale price
$23.04 USD
Unit price
per
Sale
Sold out
Our restorative Hand Cream in a refill, delivered on your schedule. 
Ingredients

Deionized Water, Carthamus Tinctorius (Safflower) Seed Oil, Isopropyl Myristate, Glycerin, Stearic Acid, Cetyl Alcohol, Glyceryl Stearate, Butyrospermum Parkii (Shea) Butter, Dimethicone, Tocopheryl Acetate (Vitamin E Acetate), Retinyl Palmitate (Vitamin A Palmitate), Tetrahexyldecyl Ascorbate (Vitamin C), Organic Aloe Barbadensis (Aloe Vera) Leaf Extract, Organic Calendula Officinalis (Marigold) Flower Extract, Organic Chamomilla Recutita (Chamomile) Flower Extract, Citrullus Lanatus (Kalahari Melon) Seed Oil, Symphytum Officinale (Comfrey) Root Extract, Cucumis Sativus (Cucumber) Fruit Extract, Fragrance, Carbomer, Xanthan Gum, Triethanolamine, Phenoxyethanol, Hexylene Glycol, Caprylyl Glycol, Ethylhexylglycerin.
Key Active Ingredients

Made with:
Safflower Seed Oil
Shea Butter
Vitamin E Acetate
Vitamin A Palmitate
Vitamin C
Aloe Vera Leaf Extract
Marigold Flower Extract
Chamomile Flower Extract
Kalahari Melon Seed Oil
Comfrey Root Extract
Cucumber Fruit Extract

Kalahari Melon Seed Oil:

Regenerating: Aids in cell regeneration, promoting a more youthful and radiant appearance.
Moisturizing: Its fatty acid content helps maintain skin elasticity and moisture.


Comfrey Root Extract:

Skin Healing: Contains allantoin, which promotes skin cell regeneration and healing.
Soothing: Reduces skin irritation and promotes a smoother skin texture.

Safflower Seed Oil:

Moisturizing: Rich in linoleic acid, it helps to maintain the skin barrier and provides hydration, leaving the skin soft and smooth.
Non-comedogenic: It's lightweight and doesn't clog pores, making it suitable for all skin types.

Shea Butter:

Deep Hydration: Acts as an intensive moisturizer, providing relief to dry and cracked skin.
Skin Protection: Offers a protective barrier against environmental stressors, locking in moisture and nutrients.

Vitamin E:

Antioxidant Protection: Helps to combat free radicals, which can cause premature aging.
Healing: Promotes skin healing and reduces UV-induced damage.


Vitamin A:

Anti-aging: Encourages healthy skin cell production, reducing the appearance of fine lines and wrinkles.
Skin Renewal: Helps in the rejuvenation of the skin, promoting a more youthful appearance.

Vitamin C:

Brightening: Evens out skin tone and enhances skin radiance.
Collagen Production: Supports the production of collagen, improving skin's elasticity and firmness.

Aloe Vera Leaf Extract:

Soothing: Offers a calming effect, reducing skin irritation and redness.
Hydrating: Infuses the skin with moisture, ensuring it remains hydrated and plump.

Marigold Flower Extract:

Anti-inflammatory: Reduces skin inflammation and promotes healing.
Antiseptic: Helps in preventing skin infections.

Chamomile Flower Extract:

Calming: Known for its skin-soothing properties, it's great for sensitive skin.
Anti-inflammatory: Reduces skin irritations and inflammations.


Cucumber Fruit Extract:
Refreshing: Provides a cooling and refreshing sensation to the skin.
Hydrating: Helps to replenish skin's moisture levels, leaving it soft and supple.

In summary, a hand cream with these ingredients would offer a comprehensive range of benefits, from deep hydration and protection to skin rejuvenation and healing. Regular use would ensure hands remain soft, healthy, and youthful-looking.
How to Use

Start with Clean Hands: Before applying the hand cream, ensure your hands are clean. Wash them with a mild soap to remove any dirt or impurities.

Pump out a Small Amount: A pea-sized amount of the hand cream onto your palm. Remember, a little goes a long way, and you can always add more if needed.

Warm the Cream: Rub your palms together gently to warm up the cream. This helps in better absorption and even distribution.

Massage Gently: Starting with the back of your hands, massage the cream in using gentle, circular motions. This area often dries out faster and shows signs of aging sooner, so give it some extra attention.

Don't Forget the Fingers: Apply the cream to each finger, massaging from the base to the tip. Pay special attention to the cuticles and nail beds, as they can often become dry and brittle.

Pamper the Palms: With the remaining cream, massage the palms of your hands, focusing on any particularly dry or rough areas.

Allow to Absorb: After applying, give the cream a minute or two to absorb fully. If your hands feel greasy, you might have used a bit too much—adjust the amount next time.

Reapply as Needed: Depending on your skin type and the climate you're in, you might need to reapply the cream multiple times a day, especially after washing your hands.

Nightly Ritual: For an intensive treatment, apply a generous amount of the hand cream before bed and wear cotton gloves. This allows the nourishing ingredients to work their magic overnight, and you'll wake up with incredibly soft hands.

Store Properly: Keep the hand cream in a cool, dry place away from direct sunlight to maintain its efficacy and texture.

Note: Regular use of our Hydrating hand cream, especially after hand washing or exposure to harsh conditions, will ensure your hands remain soft, hydrated, and youthful. Enjoy the luxurious feel and the benefits of Marianella!
Share
View full details
The Power of Marianella's Hydrating Hand Cream with Kalahari Oil

Are you tired of dealing with dry, cracked hands? Look no further than our Hydrating Hand Cream with Kalahari Oil - 8 fl. oz. This unique hand cream is packed with powerful ingredients that will leave your hands feeling nourished, hydrated, and rejuvenated.
Deep Soothing Relief for Dry Hands
Our hand cream is infused with Kalahari Melon Seed Oil, Aloe Vera, Chamomile, and Cucumber Fruit Extract. Together, these ingredients work harmoniously to provide deep soothing relief for dry, tired hands. Whether you're constantly washing your hands or exposed to harsh environmental factors, our hand cream will help restore moisture and vitality.
Intense Moisturization and Skin Brightening
The combination of Safflower Seed Oil, Shea Butter, and Vitamin E in our hand cream offers intense moisturization. Say goodbye to dry, rough skin and hello to silky-smooth hands. Additionally, Vitamin C promotes skin brightness, giving your hands a healthy glow that will make heads turn.
Revitalization and Lasting Softness
Vitamin A aids in the revitalization of your skin, making it look and feel more youthful. Comfrey Root Extract adds a rejuvenating touch, helping to restore your hands' natural beauty. Glycerin locks in moisture for lasting softness, ensuring that your hands stay hydrated throughout the day.
Absorbs Quickly, Non-Greasy Formula
Our hand cream has a rich, non-greasy formula that absorbs quickly into the skin. No more waiting around for your hand cream to dry before you can continue with your day. This fast-absorbing formula leaves your hands feeling velvety-smooth, without any residue.
Protection Against Environmental Stressors
Not only does our hand cream provide intense hydration and nourishment, but it also offers protection against environmental stressors. The Kalahari Melon Seed Oil in our formula is rich in antioxidants, which help shield your hands from free radicals and pollution. This added layer of protection keeps your hands looking youthful and healthy.
Convenient and Versatile
Our Hydrating Hand Cream with Kalahari Oil - 8 fl. oz. is designed to be convenient and versatile. Its compact size makes it perfect for on-the-go use, fitting easily into your purse, pocket, or desk drawer. Take it with you wherever you go to ensure that your hands are always moisturized and protected.
Perfect for All Skin Types
Our hand cream is suitable for all skin types. Whether you have dry, sensitive, or normal skin, you can enjoy the benefits of this luxurious hand cream. Its gentle and nourishing formula ensures that it won't cause any irritation or discomfort.
Experience the Difference
Experience the incredible benefits of our Hydrating Hand Cream with Kalahari Oil - 8 fl. oz. Say goodbye to dry, tired hands and hello to soft, nourished, and rejuvenated skin. Treat yourself to the luxury your hands deserve.
Click here to learn more about our Hydrating Hand Cream with Kalahari Oil - 8 fl. oz.
2024 EcO-Luxury Collection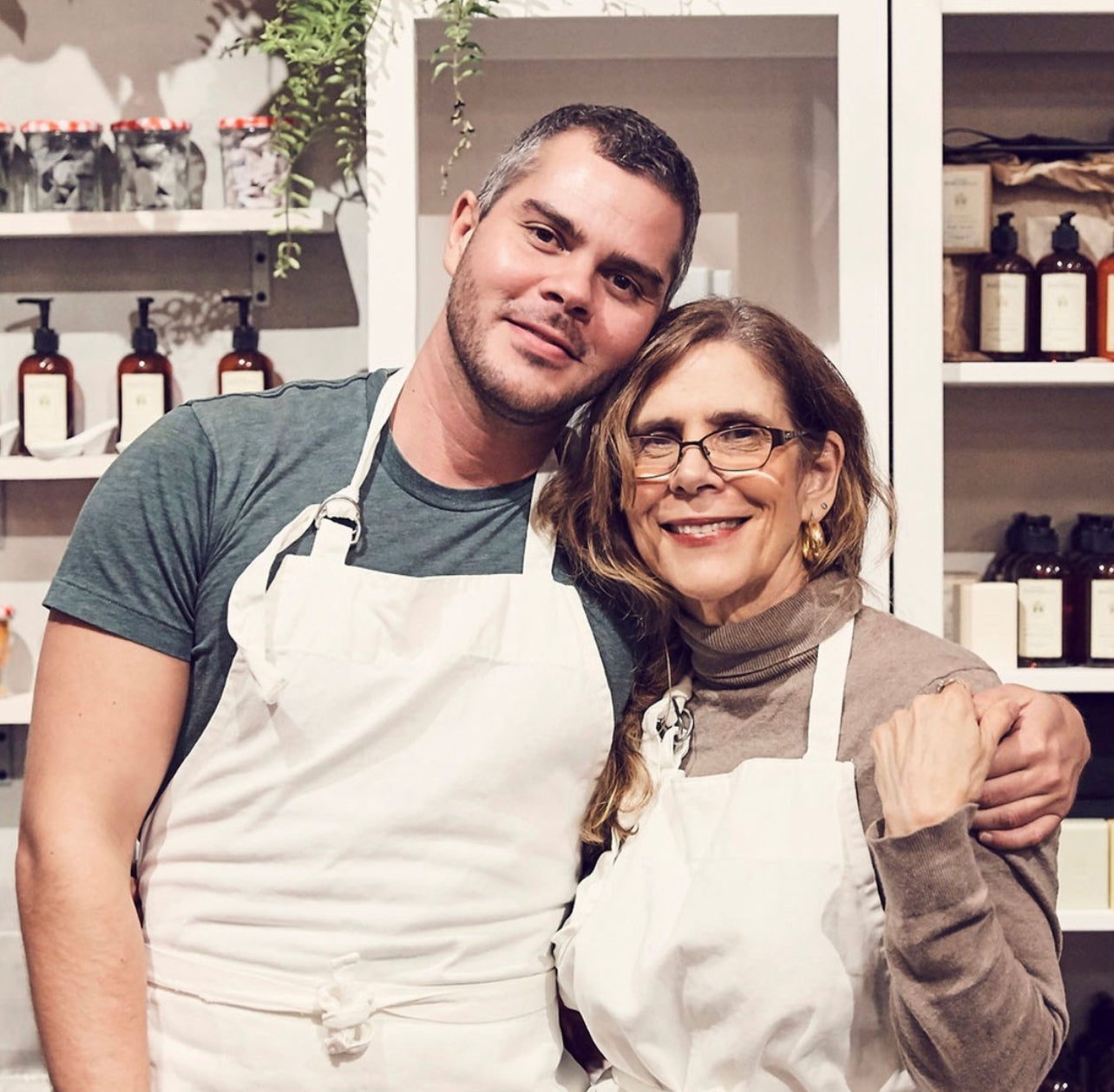 A MOTHER & SON COMPANY
As a Mother & Son Company, we take great pride in the fact that all our products are hand-crafted using only the purest ingredients in small batches to ensure absolute freshness. Our packaging is as Sustainable as possible and unlike other brands when you order from us, that product is hand made fresh for you on the spot at our store in Brooklyn. We hope you enjoy our one-of-a-kind soaps, lotions, and other magical potions, age old family recipes made with love -
❤️ Marianella & David