Regular price
$46.00 USD
Sale price
$36.80 USD
Unit price
per
Sale
Sold out
Our New Body Oil is a cold pressed infusion of amazingly beneficial 100% pure oils and vitamins. This undiluted luxurious, restorative and anti-aging formula will moisturize, soothe and replenish your skin the way nature intended, with no harsh chemicals or additives, leaving you with a beautiful and healthy youthful glow.  Available in our 4 Best Selling Scents.
Key Active Ingredients

Skin Benefits of this luxurious Body Oil with Kalahari Melon Seed Oil:

Hydrating: Provides intense hydration without clogging pores, making it suitable for all skin types.

Regenerating: Aids in skin cell regeneration, helping to heal scars and reduce signs of aging.

Balancing: Helps regulate the skin's natural oil production, making it beneficial for both dry and oily skin types.

Mongongo / Manketti Oil:


Moisturizing: Rich in polyunsaturated fatty acids, it deeply hydrates the skin, leaving it soft and supple.

Protective: Offers protection against UV rays and environmental pollutants, acting as a natural barrier for the skin.

Regenerative: Helps in the regeneration of skin cells, promoting a youthful appearance.

Marula Oil:

Antioxidant-rich: Packed with antioxidants that fight free radicals, preventing premature aging and maintaining skin elasticity.

Moisturizing: High in oleic acid, it deeply moisturizes the skin, reducing dryness and flakiness.

Soothing: Its anti-inflammatory properties help soothe redness and inflammation.

Grapeseed Oil:

Lightweight Moisturization: Offers hydration without feeling greasy, making it ideal for those who prefer a lightweight oil.

Toning: Helps improve skin's texture and tone, giving it a more even appearance.

Anti-aging: Contains antioxidants that combat signs of aging, such as fine lines and wrinkles.

Argan Oil:

Nourishing: Rich in vitamin E and essential fatty acids, it nourishes the skin, promoting a radiant glow.

Elasticity Boost: Helps improve skin elasticity, preventing sagging and promoting firmness.

Healing: Beneficial for healing minor cuts, abrasions, and soothing irritated skin.

Vitamin E:

Antioxidant Protection: Neutralizes free radicals, protecting the skin from environmental damage and premature aging.

Healing: Accelerates the healing of damaged skin, reducing the appearance of scars and dark spots.

Moisturizing: Locks in moisture, preventing dryness and keeping the skin hydrated for longer.
Ingredients

Ingredients: Schinziophyton Rautanenii Seed Oil (Mongongo / Manketti Oil), Citrullus Lanatus Seed Oil (Kalahari Melon Seed Oil), Sclerocarya Birrea Seed Oil (Marula Oil), Vitis Vinifera Seed Oil (Grapeseed Oil), Argania Spinosa Kernel Oil (Argan Oil), Tocopherol (Vitamin E).
How to Use

Preparation:

Ensure your skin is clean. It's best to apply the body oil after a shower or bath when your skin is slightly damp. This helps the oil absorb better and retains moisture.
Application:

Pour a small amount of the body oil into the palm of your hand. Warm the oil by rubbing your hands together.
Start at your feet and work your way up, using gentle, upward strokes. This promotes blood circulation.
Massage the oil into your skin using circular motions, focusing on dry areas like elbows, knees, and heels.
For the arms and legs, use long strokes. For the torso and back, use circular motions.
Don't forget your hands and nails. Rub any remaining oil into your cuticles and nails for added nourishment.
Avoid Facial Use:

Due to the inclusion of fragrance in this body oil, it is not recommended for facial use. Fragrance can be sensitizing to the delicate skin on the face.
Relax and Absorb:

Allow the oil to fully absorb into your skin before dressing. This usually takes a few minutes. The oil should leave your skin feeling soft and nourished, not greasy.
For optimal results, use the oil daily or as needed based on your skin's requirements.
Storage:

Store the body oil in a cool, dry place away from direct sunlight to maintain its potency and shelf life.
Enjoy the rejuvenating and moisturizing benefits of this luxurious natural body oil, and remember to keep it away from your face!
Clean Beauty Commitments

• Vegan

• Cruelty-Free

• Paraben-Free

• Sulfate-Free

• Phthalate-Free

• Gluten-Free

• Silicone-Free

• Mineral Oil-Free

Share
View full details
Why You Need Our Anti-Aging Body Oil for a Youthful Glow

Aging is a natural process that we all go through, but who says we can't age gracefully? With our Anti-Aging Body Oil, you can nourish and revitalize your skin to maintain a youthful glow. This cold pressed infusion of 100% pure oils and vitamins is a luxurious and effective solution to combat the signs of aging.
The Power of Pure Oils and Vitamins
Unlike other products on the market that are filled with harsh chemicals and additives, our Anti-Aging Body Oil is undiluted and formulated with only the finest ingredients sourced from nature. Cold pressing ensures that the oils retain their maximum potency, allowing your skin to benefit from their rejuvenating properties.
Moisturize and Soothe
One of the key benefits of our Anti-Aging Body Oil is its exceptional moisturizing and soothing abilities. The nourishing blend of oils penetrates deep into your skin, providing intense hydration and locking in moisture. Say goodbye to dry, dull skin and hello to a smooth and supple complexion.
Restore and Replenish
As we age, our skin loses its elasticity and begins to show signs of aging such as fine lines and wrinkles. The restorative properties of our Anti-Aging Body Oil help to diminish these signs, promoting a more youthful appearance. It replenishes the skin, improving firmness and elasticity to give you a revitalized and rejuvenated look.
Chemical-Free and Additive-Free
We believe in the power of nature and the importance of using products that are free from harsh chemicals and additives. Our Anti-Aging Body Oil is carefully crafted with your well-being in mind, ensuring that you are only putting the best ingredients on your skin. Experience the difference of a product that is truly pure and natural.
Choose Your Scent
We understand that scent is a personal preference, which is why our Anti-Aging Body Oil is available in four best-selling scents. Whether you prefer the refreshing aroma of lavender, the invigorating scent of citrus, the calming fragrance of chamomile, or the uplifting smell of rose, we have a scent that will delight your senses.
The Science Behind Youthful Skin
Our Anti-Aging Body Oil is backed by scientific research and the power of nature. The cold pressed infusion of oils contains essential fatty acids, antioxidants, and vitamins that work synergistically to nourish and repair your skin. These components help to neutralize free radicals, stimulate collagen production, and improve the overall health and appearance of your skin.
Visible Results
Don't just take our word for it - the results speak for themselves. Our satisfied customers have reported a noticeable improvement in the texture, tone, and radiance of their skin after using our Anti-Aging Body Oil. Fine lines and wrinkles are visibly reduced, leaving the skin smoother and more youthful-looking. Experience the transformative power of our product and see the results for yourself.
A Holistic Approach to Anti-Aging
We believe that true beauty comes from within, and our Anti-Aging Body Oil embodies this philosophy. It not only nourishes your skin but also provides a sensory experience that promotes relaxation and well-being. The aromatherapeutic properties of the essential oils used in our body oil can help reduce stress, improve sleep quality, and enhance your overall mood - all contributing to a more youthful and radiant you.
How to Use
Applying our Anti-Aging Body Oil is a simple and luxurious ritual that you can incorporate into your daily skincare routine. After showering or bathing, massage a few drops of the oil onto clean, damp skin. Gently massage in circular motions until fully absorbed. Allow the natural oils to work their magic and enjoy the indulgent experience.
Embrace Your Youthful Glow
Now is the time to embrace your natural beauty and unlock the secret to a youthful glow. Our Anti-Aging Body Oil offers a pure, chemical-free, and effective solution to combat the signs of aging. Experience the transformative benefits of this luxurious oil and enjoy the confidence that comes with radiant, healthy-looking skin.
Click here to explore our Anti-Aging Body Oil and start your journey to a more youthful you.
2024 Eco-Luxury Collection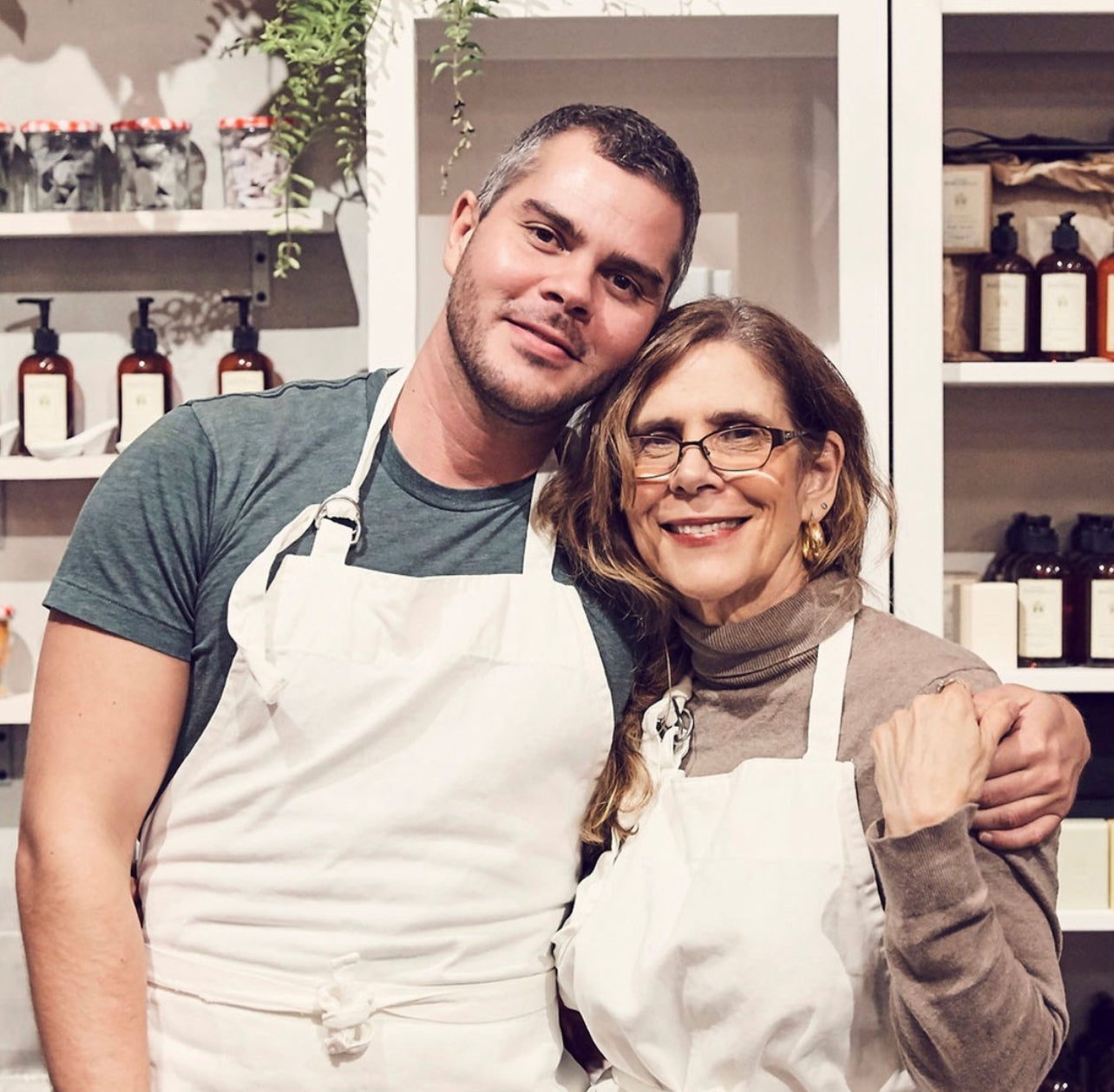 A MOTHER & SON COMPANY
As a Mother & Son Company, we take great pride in the fact that all our products are hand-crafted using only the purest ingredients in small batches to ensure absolute freshness. Our packaging is as Sustainable as possible and unlike other brands when you order from us, that product is hand made fresh for you on the spot at our store in Brooklyn. We hope you enjoy our one-of-a-kind soaps, lotions, and other magical potions, age old family recipes made with love -
❤️ Marianella & David