Regular price
Sale price
$28.00
Unit price
per
Sale
Sold out
Our New Golden Body Oil is a shimmering elixir that will nourish your skin with a powerful and beneficial combination of oils and give you the ultimate summer glow. Each is custom blended for you by hand in small batches at the Marianella Soap Bar in Soho NY. In order for Gold to activate SHAKE WELL BEFORE USE.
Our stimulating Moroccan Fig and Bergamot fragrance refreshes and invigorates the senses, with crisp notes of Moroccan Fig, the sweet citrus aroma of Bergamot from the Ivory Coast, and delicately mixed notes of Apple, Grapefruit, Plum and Rosewood.
Ingredients
Each Golden Body Oil is Made with: 
100% Pure Cotton Seed Oil

100% Pure Argan Oil 

100% Pure Pomegranate Oil

100% Pure Marula Oil

100% Pure Grapeseed Oil

Kings Gold Mica
99% Natural 
Scented with Fragrance 
Cottonseed Oil, contains high concentrations of vitamin E, fatty acids, and antioxidants that have many benefits for your skin, including: moisturizing. anti-aging. anti-inflammatory properties.
Argan Oil, a very effective anti-aging component with high levels of vitamin E and antioxidants that help reduce the appearance of wrinkles and fine lines. 
Pomegranate Seed Oil contains a unique polyunsaturated oil called "punicic acid", an omega 5 fatty acid, which has strong anti-inflammatory properties. The oil fends off free radicals to keep skin aging at bay. It also provides protection against sun damage.
Marula Oil is rich in essential fatty acids Omega 9 - oleic and Omega 6 - linoleic that deeply hydrate and reduce redness while nourishing, healing, moisturizing and improving skin elasticity. Marula Oil  increases the smoothness of skin. 
Grapeseed Oil is filled with awesome nutrients for beautiful skin and hair. Did you know that it actually contains more Vitamin E than olive oil?! Wow! And vitamin E is popularly known as the 'beauty vitamin' for glowing skin and luscious hair!\Our Luxurious Body Oil is rich in Flavonoids like oligomeric procyanidin, Linolenic acid, Oleic acid, Omega 3 fatty acids, Omega 6 fatty acids, Omega 9 fatty acids, Palmitic acid, Stearic acid, Vitamin C and Vitamin E.
How to Use

We hope you enjoy our glistening Golden Body Oils. When we make this gorgeous elixir, we use very fine high quality Gold mica powder which tends to settle over time at the bottom of the bottle. To get the most glow out of this fabulous oil: Take out the dropper and put the wooden mixing stick inside the bottle, press down on the bottles base and stir in a circular motion. Take the stick out of the bottle, put the dropper back in, screw tightly and Shake well. The oil should now look like the image in the front of this card. Empty Dropper out and then pull back again, the liquid in the dropper should look like liquid gold. If it does not, repeat the first step with the mixing stick again until it does. 
Apply this hydrating golden elixir on your arms and legs, for a superior natural looking sheen.
View full details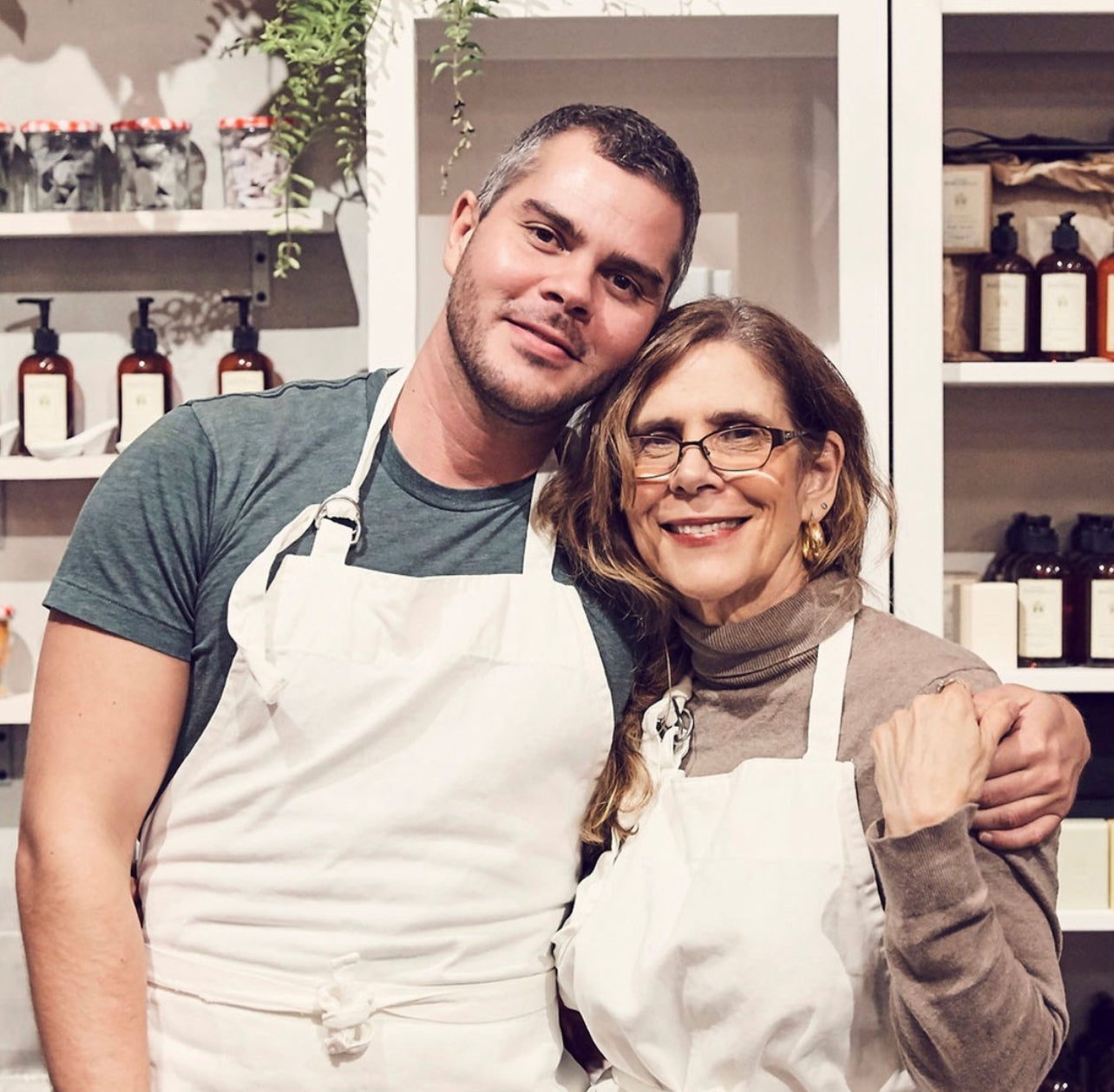 A MOTHER & SON COMPANY
As a Mother & Son Company, we take great pride in the fact that all our products are hand-crafted using only the purest ingredients in small batches to ensure absolute freshness. Our packaging is as Sustainable as possible and unlike other brands when you order from us, that product is hand made fresh for you on the spot at our store in Brooklyn. We hope you enjoy our one-of-a-kind soaps, lotions, and other magical potions, age old family recipes made with love -
❤️ Marianella & David